Our master's degree in geology prepares students for exciting, well-paying, and rewarding careers in areas such as petroleum exploration and environmental geology. We offer a flexible curriculum that can be tailored to each student. All of our courses emphasize the interpretation of geologic data and problem solving, which makes our students overwhelmingly successful!
Our consistent success in the American Association of Petroleum Geologist's Imperial Barrel Award (IBA) competition demonstrates that we are the top program in the Gulf Coast region and one of the top programs in the nation in the area of petroleum geology. The IBA petroleum exploration student competition started in 2008, and we won the Gulf Coast section in 2008, 2010, 2012, 2014 and 2018 beating other universities from Texas, Louisiana, and Mississippi. In 2012, 2014 and 2018 we won the international competition, respectively beating 103, 122 and 168 universities from around the world. UL Lafayette Geology is the only team to win the international IBA competition more than once.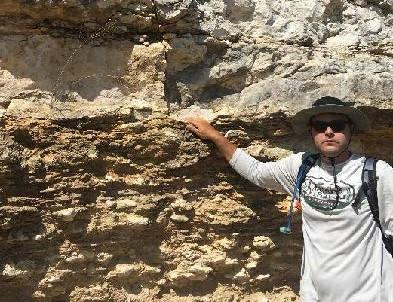 Former MSc student Ross Ledoux inspecting fractures in the Buda Fm, TX
Apply to the Master's in Geology Program
Become a part of the vibrant and active academic community at UL Lafayette!
Apply for admission to the Graduate School >>
Master's in Geology Admission Requirements
We require that our students in the geology master's program have an undergraduate degree in geology or a related field from an accredited university. If you haven't completed certain undergraduate geology courses before beginning the Master's in Geology program, you may be required to complete some courses during your time here at UL Lafayette.
Learn more about the admissions requirements for the master's in geology program >>
Master's in Geology Courses
When you earn your geology master's degree from UL Lafayette, you'll get to learn in the classroom and in the field. Because we have such a wide array of available courses within the master's in geology program, you can choose the courses that truly interest you and fit your career aspirations.
Read more about the master's in geology curriculum >>
Thesis & Research Opportunities for Master's in Geology Students
Like our coursework, thesis research projects are tailored to your interests and can be quite diverse. For example, we have students who work on everything from petroleum exploration to climate reconstruction and ocean drilling.
Read more about our geology research to see what you could study for your thesis in our master's in geology program.
Career Opportunities for Master's in Geology Graduates
Jobs for geology master's graduates are projected to grow by 35 percent nationally over the next 10 years — and you can find many of those high-paying jobs here in Louisiana. People with their master's degree in geology are in demand for jobs with the oil and gas industry, engineering companies, government agencies, museums, and more.
See the career opportunities available to you as a geology master's student >>